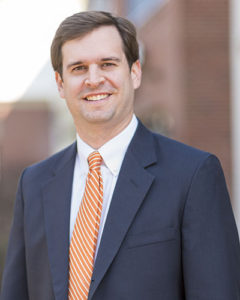 Direct: (919) 645-4305
moc.p1545020543lfael1545020543gnol@1545020543ekral1545020543cp1545020543
Penn advises clients in real estate transactions, ranging from the complex to the routine, involving the acquisition, financing, development and sale of retail, office, medical, warehouse, mixed-use, multi-family and hotel real estate matters. A substantial portion of Penn's practice focuses on representing landlords and tenants in preparing and negotiating leases for retail, office, warehouse, solar and medical office properties. Penn also represents national homebuilders in the acquisition and development of residential subdivisions and planned communities including the incorporation of homeowners' associations and preparation of restrictive covenants.  
Prior to joining the firm, Penn practiced in the Charlotte and Raleigh offices of a large international law firm and served as temporary law clerk to the Honorable G. Steven Agee, United States Court of Appeals for the Fourth Circuit.   
Practice Areas
Real Estate Acquisitions & Dispositions
Real Estate Finance & Capital Markets
Real Estate Investment & Development
Distressed Debt & Workouts
Representative Transactions
REIT in the $2.3 billion acquisition of a portfolio of 72 medical office buildings and development parcels over four serial closings
REIT in the review of the real estate diligence, including leases, loan documents, title documents, and surveys, of the merging REIT related to the $5.7 billion merger of the two REITs
Investment firm in the acquisition, sale, and financing of numerous apartment complexes totaling more than $200 million
National financial institution in dozens of sales of a variety of asset types totaling more than $100 million of owned real property acquired through foreclosure
Landlords and tenants in commercial lease negotiations totaling more than 2 million rentable square feet
REIT listed on the NYSE in the acquisition, sale, management, and leasing of real property
International convenience store chain in the acquisition, development, sale, and leasing of real property
Borrower in the $50 million refinancing of a portfolio of 7 shopping centers
Pension fund in the acquisition of a $75 million mixed-use development
Multi-family investment firm in the sale of a $47 million apartment complex
National homebuilders in large tract acquisitions and development of single family and townhome units
Retail developer in the sale of a $32 million shopping center
Buyer/borrower in the acquisition and financing of a $35 million apartment complex
Investment fund in the formation of a joint venture and in the related acquisition and financing of an office building
Retail developer in the land acquisition, financing, development, and leasing of a shopping center
Multi-family investment firm in the acquisition of a $40 million apartment complex
Investment firm in the $12 million acquisition of a historic office building
Buyer/borrower in the $25 million acquisition of an apartment complex and related financing and joint venture
Admissions
North Carolina
Memberships
NAIOP Raleigh Durham Chapter
University of North Carolina, Young Alumni Leadership Council
ULI Triangle
Virginia Episcopal School, Class Agent & Reunion Chair
Washington & Lee University, Young Alumni Law Council
White Memorial Presbyterian Church
YMCA of the Triangle, Camps Sea Gull and Seafarer, Alumni Ambassador
Education
Washington and Lee University School of Law, J.D. (Martin P. Burks Scholar)
University of North Carolina at Chapel Hill, B.A. with honors